Julie Béna, Guðrún Bergsdóttir, David Escalona, Rósa Gísladóttir, Juliana Höschlová, Tomáš Javůrek & Screen Saver Gallery, Eva Koťátková, Guðjón Gísli Kristinsson, Marie Lukáčová, Michael Nosek, Claire Paugam, Sindri Ploder, Adéla Součková, Vladimír Turner, Aleksandra Vajd & Anetta Mona Chiṣa
Fragments of Other Knowledge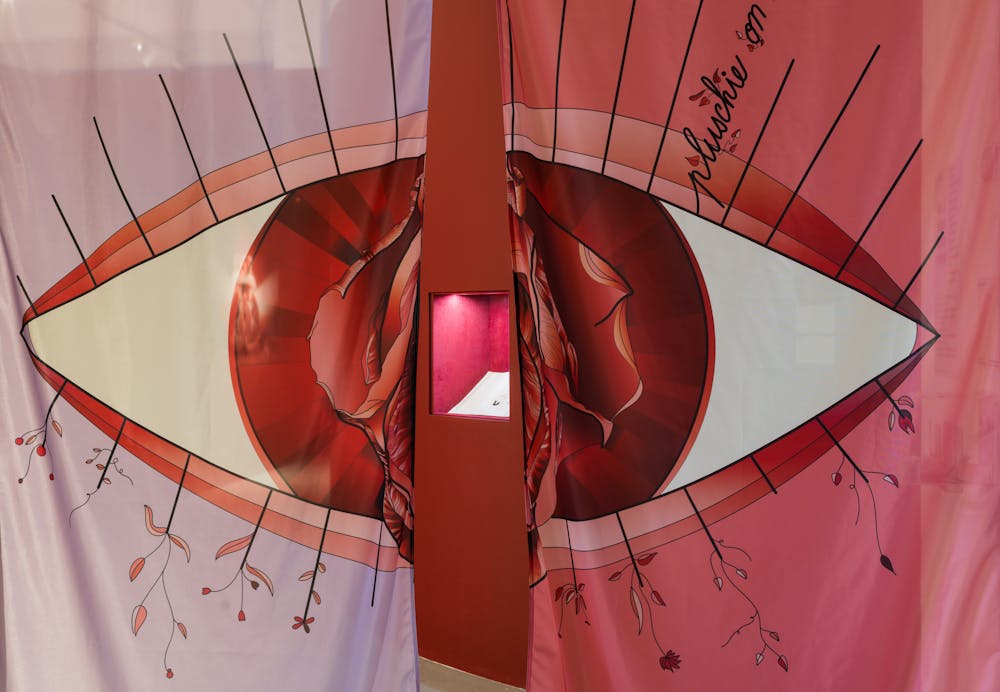 Specific themes addressed in the exhibitions include spirituality; altered states of consciousness and drugs; wisdom associated with nature and traditional communities; "normality" and institutionalization; cognition and experience mediated by the body; hand craft and slow lifestyle connected with it; the worldview of people with sensory or physical disabilities; discovery and adventure; artificial intelligence; and last but not least, artistic research itself as a unique form of knowledge.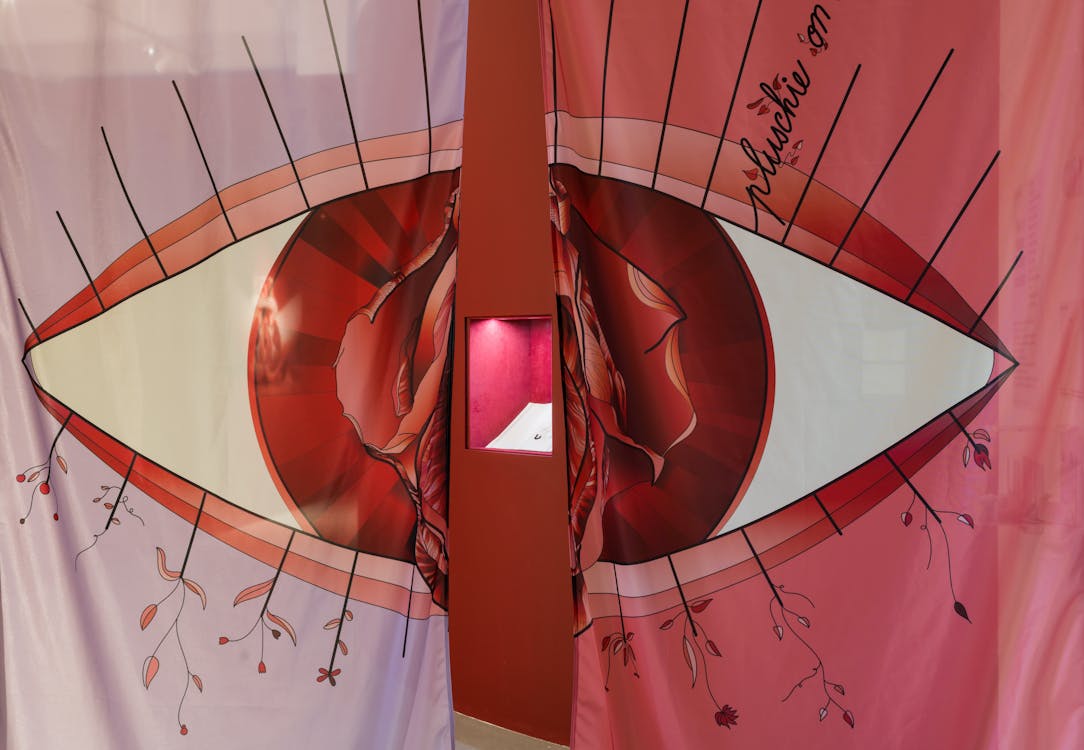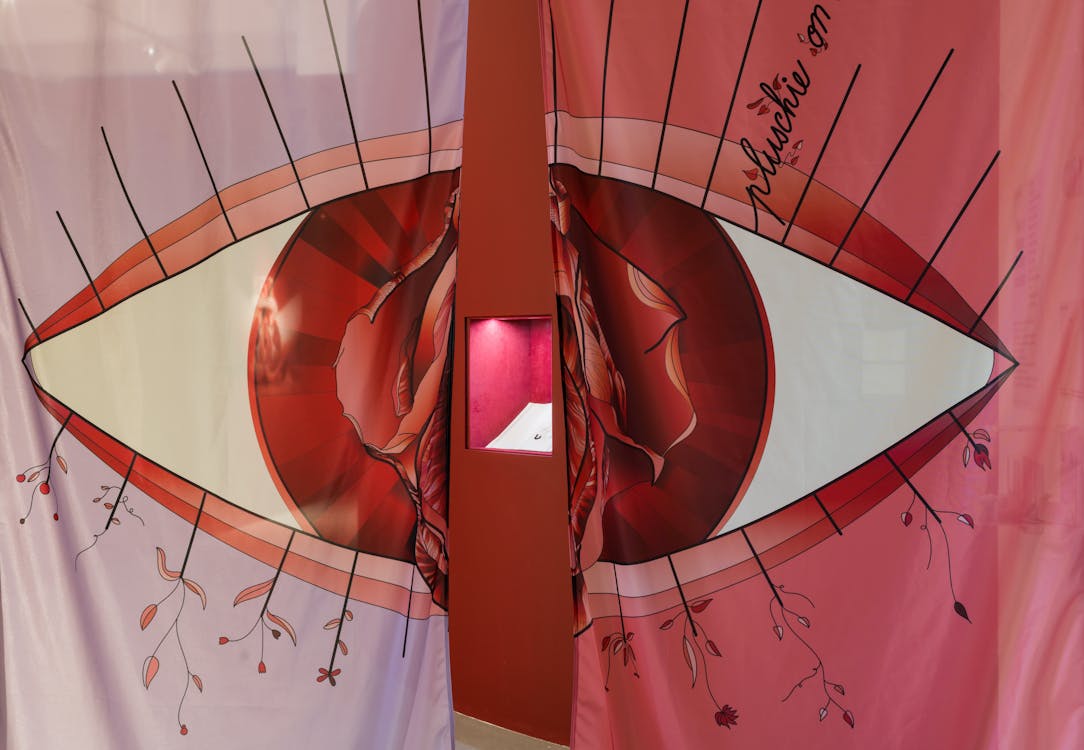 Biography
Adéla Součková
Adéla Součková (*1985, Czech Republic) is a graduate of the Academy of Fine Arts in Prague and the Hochschule für Bildende Künste in Dresden. In her artwork, she develops complex critical and pictorial language that ranges from drawing, performance, and installation to video performance and poetry. Her paintings, drawings, performances, and installations are permeated by a comprehensively understood poetics connected with the language of symbolic references as well as with the moment of visibility of artistic and physical gestures.
Aleksandra Vajd
Aleksandra Vajd (*1971, Slovenia) focuses her art praxis on photography, pushing the limits of the medium. She treats pictures as objects, utilizes spaces, and is interested in the materiality of light. Recently, she has been dealing with reduction photography, exploring the limits of the medium, and stressing the aspect of materiality. The Slovenian artist living in Prague graduated from Photography at the Film and TV School of Academy of Performing Arts (FAMU) in Prague. She was also on scholarship at the State University of New York at New Paltz. In 2008, she became an Associate Professor at the Academy of Fine Arts and Design in the Slovenian capital of Ljubljana. She cooperated mostly with the Czech photographer Hynek Alt between 2005 and 2015. Since 2008, she has been the head of the Studio of Fine Arts IV of the Academy of Arts, Architecture and Design in Prague.
Anetta Mona Chişa
Anetta Mona Chişa is a visual artist working in sculpture, video, performance and text to make work that explores transforming matter, environments, technologies and their politics and materialities. She is interested in non-hylomorphic models of sculpting and in the potential of matter to transform in time. Her works and collaborative projects have been exhibited widely in numerous institutions across the world, from Art in General New York, n.b.k. Berlin, MoCA Miami, MuMoK Vienna, The Power Plant Toronto, Schirn Kunsthalle Frankfurt to Taipei Biennale, Moscow Biennale and the 54th Venice Biennale among others.
Claire Paugam
Claire Paugam (*1991,France) lives and works in Reykjavik. Paugam graduated from the Iceland University of Arts in 2016 and is the recipient of the Motivational Award 2020 delivered by the Icelandic Art Prize. Claire holds a multidisciplinary practice: each art piece comes to life with its own materiality, from photographs to sculptures to site-specific and often life-size installations. The core of her work is to raise questions about the matter by confronting a sensitive experience with common systems of rules and representation. Shapelessness, disorder, entropy and the feeling of letting go are major themes she is exploring. Claire Paugam is a board member of the Living Art Museum.
David Escalona
David Escalona (*1981, Spain) has a PhD in Arts from the University of Granada and a Master's Degree in Art Research and Production from the same University. The terms he learnt while studying Medicine at the University of Málaga marked his artistic path: the body, disease and the fragility of our existence are some of the topics present in his work. He applies a transversal thought process to his artworks which are like visual metaphors, making up a multiplicity that invites the onlooker to view them at a distance from the hermetic compartments of each respective discipline. Escalona has had many solo exhibitions and has taken part in group art shows at Instituto Cervantes New Delhi; CentroCentro Madrid; and Künstlerhaus Bethanien, Berlin, among others.
Eva Koťátková
Eva Koťátková (*1982, Czech Republic) is a fine artist actively involved in the Czech and international contexts. She received her Master's degree from The Academy of Fine Arts in Prague (AVU) and her Doctorate from The Academy of Arts, Architecture and Design in Prague. Koťátková was the Jindřich Chalupecký Award Laureate in 2007. She is the co-founder of the platform Institute of Anxiety, which creates a space for cooperation between artists, theorists and activists. Her work explores forms of power, manipulation, discrimination and control foisted by institutions on those who defy norms (or what is considered normal) in some way or another. Using various media, Koťátková then searches for other models of functioning, communication and sharing which would enable individuals and collectives to act in more free, equal, and empathic ways. She works with marginalized stories and emotions often inviting children to collaborate with her. Koťátková has exhibited at the Istanbul Biennale (2019), The Metropolitan Museum in New York (2018), 21er Haus – Museum for Contemporary Art in Vienna (2017), Sonsbeek (2016), The New Museum Triennial in New York (2015), Schinkel Pavillon in Berlin (2014) and the Venice Biennale (2013).
Guðjón Gísli Kristinsson
Guðjón Gísli Kristinsson (*1988, Iceland) was born and raised in Ólafsvík, a town in the west of Iceland. Later in his childhood he moved with his family to Reykjavík. He finished both elementary school and high school. Guðjón Gísli has been living and working in Sólheimar, an eco-village in Iceland since 2017. In Sólheimar workshops Guðjón started to work in the field of arts and handcrafts and developed there his passion for embroidery. Guðjón's work is represented in private collections and he regularly takes part in group exhibitions in Art space in Sólheimar. Let Me Hear Your Footprints is his first participation at an international group exhibition outside of Iceland.
Guðrún Bergsdóttir
Guðrún Bergsdóttir (*1970, Iceland) is a visual artist who has held solo exhibitions of her works, in Gerðuberg and at Mokka and participated in joint exhibitions at Safnasafnið, Hafnarborg and most recently at the Reykjavík Art Museum. At the turn of the last century, Guðrún started to create her own pictures instead of following patterns, but previously she had done such pictures with a felt-tip pen.
Guðrún does not sketch but creates her visual works on the embroidery surface, the size of the canvas determines their outer limits. On the picture surface, it is then a thread and a needle that follow each other until the picture is complete. It is unusual to see embroidery works that are as alive as Guðrún's work.
Her pictures are characterized by a strong rhythm of colors and shapes, the image structure is often open so that each picture world seems part of a larger whole. Guðrún's embroidery has strong ties to painting, so organic are the forms, the lively line and the nuanced spectrum.
Juliana Höschlová
Juliana Höschlová (*1987, Czech Republic) lives and works in Bratrouchov in the Giant Mountains in the Czech Republic. She graduated in painting studio with Vladimír Skrepl and Jiří Kovanda at the Academy of Fine Arts in Prague. In 2010 she won the NG 333 award. She completed internships and residencies in Taiwan, Kiev, Budapest and Graz. In her work, she deals with environmental and social issues and examines consumables such as plastic and textiles. She is currently mainly involved in digital painting.
Julie Béna
Julie Béna (*1982, France) lives and works in Prague and Paris. She is a graduate of the Villa Arson in Nice and attended the Gerrit Rietveld Academie in Amsterdam. Her work is made up of an eclectic set of references, combining contemporary and ancient literature, high and low art, joking and seriousness, parallel times and spaces. Comprising sculpture, installation, film, and performance, her work often seems to float in an infinite vacuum, unfolding against a fictional backdrop where everything is possible. In 2012–2013, she was part of Le Pavillon, the research laboratory of Palais de Tokyo. In 2018, she was nominated for the Prix AWARE Women Art Prize. She is represented by the Joseph Tang Gallery in Paris and Polansky Gallery in Prague.
Marie Lukáčová
Marie Lukáčová (*1991, Czech Republic) is a Czech visual artist. She got her Master's degree at the Academy of Arts, Architecture and Design in Prague in 2017. She is one of the three founders of the Feminist Group / FB Guerilla called "The Fourth Wave" which launched a public debate about sexism at universities in 2017. Marie also participated in the establishing of the critical-student organization "Studio without Master", where she worked and studied from 2015 to 2017. She also studied at the Faculty of Fine Arts in Brno and at the Art Academy Mainz in Germany. Lukáčová had her first solo exhibitions in 2014, and since then, in addition to her relatively large participation in group shows, she has had them every year. In 2019, she had a solo exhibition "Sirena Bona" in GAMU Gallery in Prague.
Michael Nosek
Michael Nosek (*1990, Czech Republic) was born in Litoměřice, lives and works in Prague. He graduated from the Academy of Fine Arts in Prague, where he studied at the Painting Studio III. Michael Rittstein. Physicality and emotionality repeatedly appear in the range of topics the author works with. A corporeality that is portrayed either directly and explicitly or one that carries a work that exists and resonates in combination with the body. Emotionality, facial expression, facial expressions, expression – such contents then describe the masks that the author creates, whether intended as a separate object or in connection with the body and in the installation.
Rósa Gísladóttir
Rósa Gísladóttir (*1957, Iceland) graduated in Art from the Icelandic College of Art and Crafts (Reykjavík, '81), in Sculpture from the Academy of Fine Arts (Munich, '86), and in Art as Environment from the Manchester Metropolitan University (Manchester, '02). Her work has been widely exhibited, including Germany, the USA, the UK, Italy and Iceland. Rósa Gísladóttir's three-dimensional works explore the derivation of forms and their transcendence of meaning throughout history, modern-day materials, and the struggles of consumerism. She has used various materials in her work but she is best known for her plaster sculptures that have taken on different shapes and sizes. From the start of her career she has often incorporated artistic references to architecture and culture; her work emphasizes the independent value of still life as an art form and continually delves into subjects such as sustainable development, classicism, and spirituality.
ScreenSaverGallery
ScreenSaverGallery is a group composed of artists, curators, and academics Barbora Trnková, Tomáš Javůrek, and Marie Meixnerová. Their practice consists in searching experimental approaches to the most topical technologies and presenting these to both experts and the general public.
Sindri Ploder
Sindri Ploder (*1997, Iceland) participated in the set design a Czech theater in 2016, for a play on Skugga-Baldur by Sjón, which was shown in Hafnarhúsið several times and was shown in Prague until 2022. He participated in a group exhibition organized by Art Without Borders 2017 where he worked with the designer Munda Vondi, where Sindra's drawings were used on a woolen rug designed by Mundi. Sindri took part in Art Without Borders 2019, 2020 and 2022 where he showed drawings, woolen carpet and wooden sculptures.
He was in the spring semester of 2019 at the Art School in Reykjavík, where he attended a course in art and participated in a group exhibition organized by them. He has since studied art at Fjölmennt as well as working in Bjarkarás.
Sindri has always enjoyed drawing, but it wasn't until around the age of 12 that his drawings began to take on the personal form that characterizes them today. He has mainly focused on portraits that are very recognizable, very special and expressive. Recently, he has also been experimenting with wooden sculptures where he implements the shape of the face in three dimensions. He has also worked on ceramics, mosaics, wood and textiles. His main platform, however, is drawing with a fine marker pen on paper.
Sindri spends most of his free time drawing and creating, whether at home or on napkins in the car, in waiting rooms or airports.
Tomáš Javůrek
Tomáš Javůrek (b. 1983, Czech Republic) is a postgraduate student at the Faculty of Fine Arts at the Brno University of Technology, where is also an assistant professor. Additionally, he is also an independent book publisher, while his curatorial work focuses on contemporary internet and digital art, which he also focuses on in his dissertation research. He is part of the art duo &.
Vladimír Turner
Vladimír Turner (*1986,Czech Republic) lives and works in Prague. He studied audiovisual studies at FAMU, then studied in the studio of intermedia confrontation at the Academy of Arts, Architecture and Design in Prague. He completed internships and residencies in Buenos Aires, Valencia, Nijmegen, Toulouse or Brisbane. In his work, he oscillates between documentary film, art in public space and activism.
---
Sýningarstjóri
Tereza Jindrová & Eva B. Riebová