Graham Wiebe, Magnús Sigurðarson, Minne Kersten, Patricia Carolina, Sigrún Hlín Sigurðardóttir
They won't stand time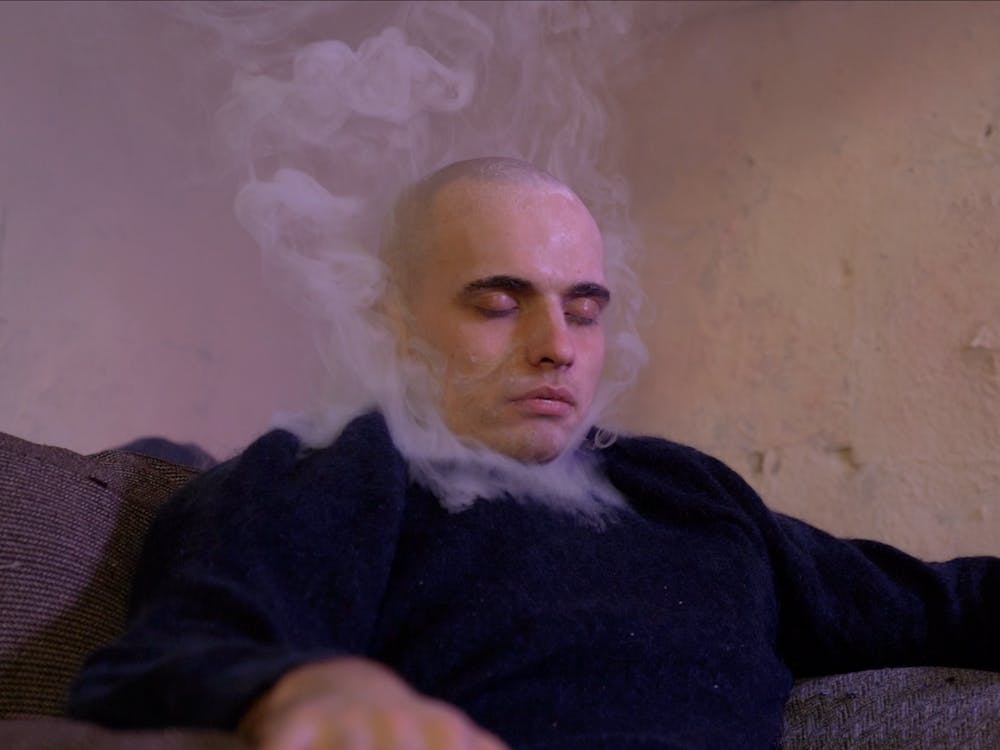 They won't stand time merges dissolution and expectations with the fluidity of life and the creative force of destruction, transformation and movement. Processes that belong to both nature and society, fleeting but momentarily real.
Biography
Graham Wiebe
Graham Wiebe (1994, CA) received his B.F.A. (Hons) at the University of Manitoba Prize exhibiting a selection of work at the Art Gallery of Ontario (Toronto, CA) and has since exhibited both in Canada and internationally in group exhibitions at BSMNT Gallery (Leipzig, DE), the plumb (Toronto, CA), the Polygon Gallery (Vancouver, CA), and the Palazzo San Giuseppe (Polignano a Mare, IT). Reflecting a visual memoir through a satirical scope, his practice is a record of impulse and engagements, allowing rituals of healing and spirituality to weave together and highlight the intersections of life and death.
Magnús Sigurðarson
Magnús Sigurðarson (1966, IS) exposes his own vulnerability in acts, each of them acknowledging the pathos of his and our being. With a self-deprecating sense of humor, Sigurdarson plays out his heightened awareness of being out of place. His works employ a range of media, from interventions in public space and sculptural installations to intimate photographic and video work.He has exhibited at Reykjavik Art Museum, the Icelandic Consulate in Berlin, Dimensions Variable, Vizcaya Museum and Gardens and Museum of Contemporary Art in North Miami. Sigurdarson studied art at Studio Cecil and Graves, Florence, Italy (1988), The Icelandic College of Arts and Crafts (1992) and Mason Gross School of the Arts, Rutgers University, New Brunswick, New Jersey, USA (1997). He currently lives and works in Miami, Florida.
Patricia Carolina
Patricia Carolina (1993, MX) studied at Iceland University of the Arts (BA 2019), and at Kunsthøgskolen i Oslo (MFA 2022). Currently, she lives and works between Mexico and Norway. Her practice deals with sculpture, performance, moving images, and drawing: often including kinetic elements, objects from domestic environments and water, either contained or in movement. Patricia has exhibited both here in Iceland and abroad, amongst others Kunstnernes Hus (Osló, NO), Midpunkt (Reykjavík, IS) The Sculptural Association's garden (Reykjavík, IS) and the Nordic House in Reykjavík (IS).
Minne Kersten
Minne Kersten(1993, NL) lives and works in Amsterdam. Her work has a literary approach: she tells visual stories and constructs sculptural environments that support these narratives or add to their reading and interpretation. She works with installations, videos, sculptures and painting which form the backdrop of staged world. Her work considers the relationship between the real and the imagined, the ordinary and the uncanny, by means of staging situations that are subdued to chaos, decay or deconstruction.She was a participant at De Ateliers from 2018-2020 and graduated with a BFA from the Image & Language department at de Gerrit Rietveld Academie in 2016. Recent exhibitions include: Annet Gelink Gallery, Amsterdam (NL), HISK exhibition space, Brussel (BE), Haus Wien, Vienna (AT), Hotel Maria Kapel, Hoorn (NL), De Ateliers, Amsterdam (NL).
Sigrún Hlín Sigurðardóttir
Sigrún Hlín Sigurðardóttir (1988, Reykjavík, Iceland) lives and works in Reykjavík. She works primarily with textiles, text and drawing. Sigrún's work is concerned with the human connection to images, symbols and the material worlds, in the past, present and future. She graduated with an M.A. degree from Faculty of Contemporary Art, University of Bergen in 2021, and recently held her first solo exhibition Biting My Time at Visningsrommet USF in Bergen. She has also exhibited her work in group exhibitions at Standard (Oslo), the Nordic House, Hafnarborg, Skaftfell and other culture venues in Iceland
---