Klāvs Liepiņš, Renāte Feizaka, Raimonda Sereikaitė-Kiziria
As you are now so once was I/As I am now so will you be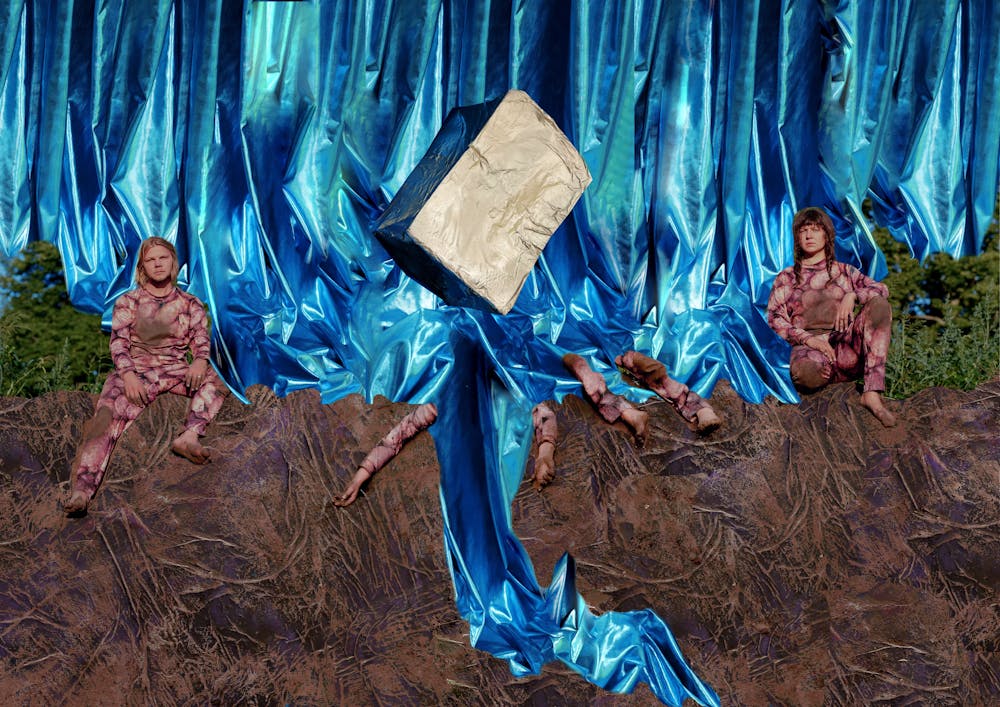 Exhibition opening on Good Thursday, August 26 from 5–9 pm. 
The participating artists Klāvs Liepiņš, Raimonda Sereikaitė-Kiziria and Renāte Feizaka, are all based and work in Iceland. Their works derive from an apparently different viewpoint yet they enchantedly meet in this exhibition in the realm of elemental human uncertainties. Raimonda´s large-scale, self-content sculptures with their vivid colours and stimulating textures are in consistency to the artist's fascination in altering the physical form of her pieces. The artist duo Klāvs Liepiņš and Renāte Feizaka use their Nature-Human theme as a starting point where political, cultural and existential hypotheses derive from. Their soil installation serves as a symbol of the fabrication and absurdity of nationalism : the concepts of heritage and belonging : as well as a representation of the cycle of life.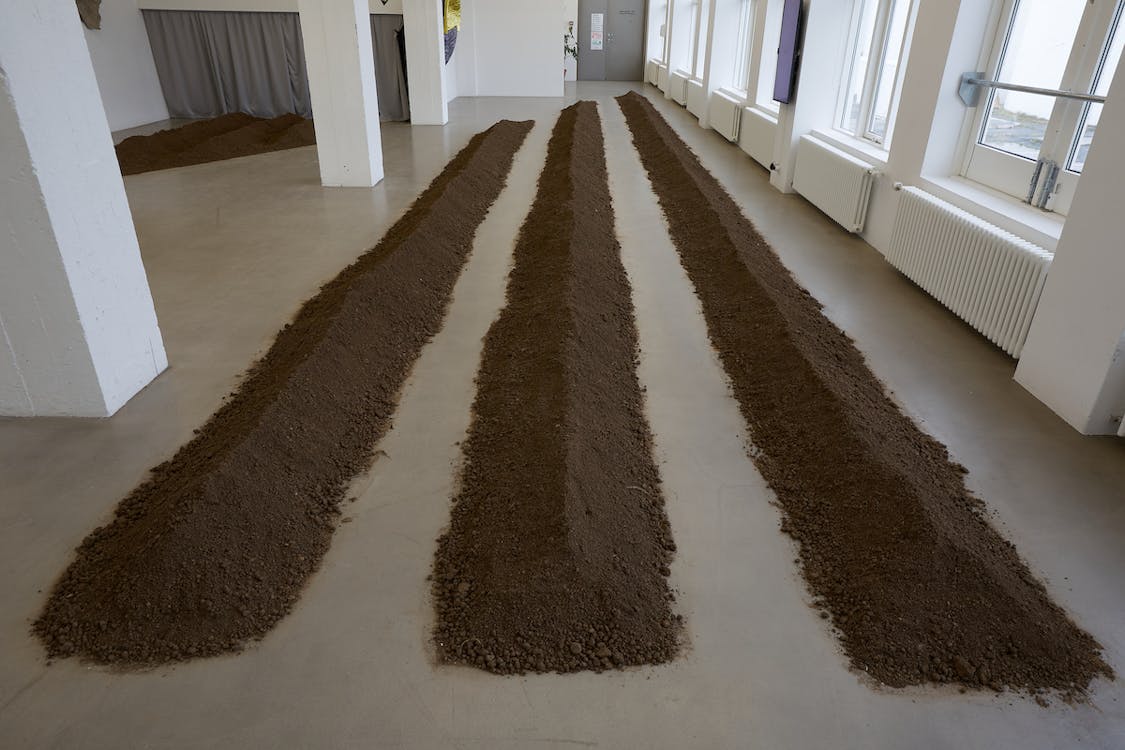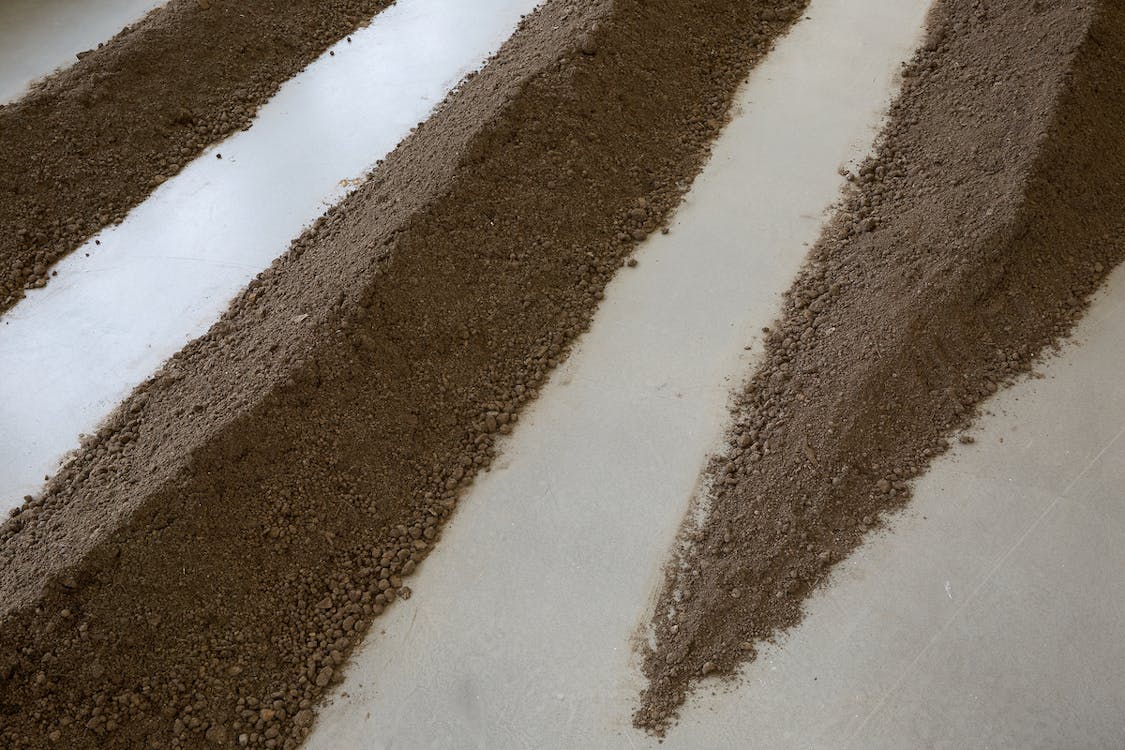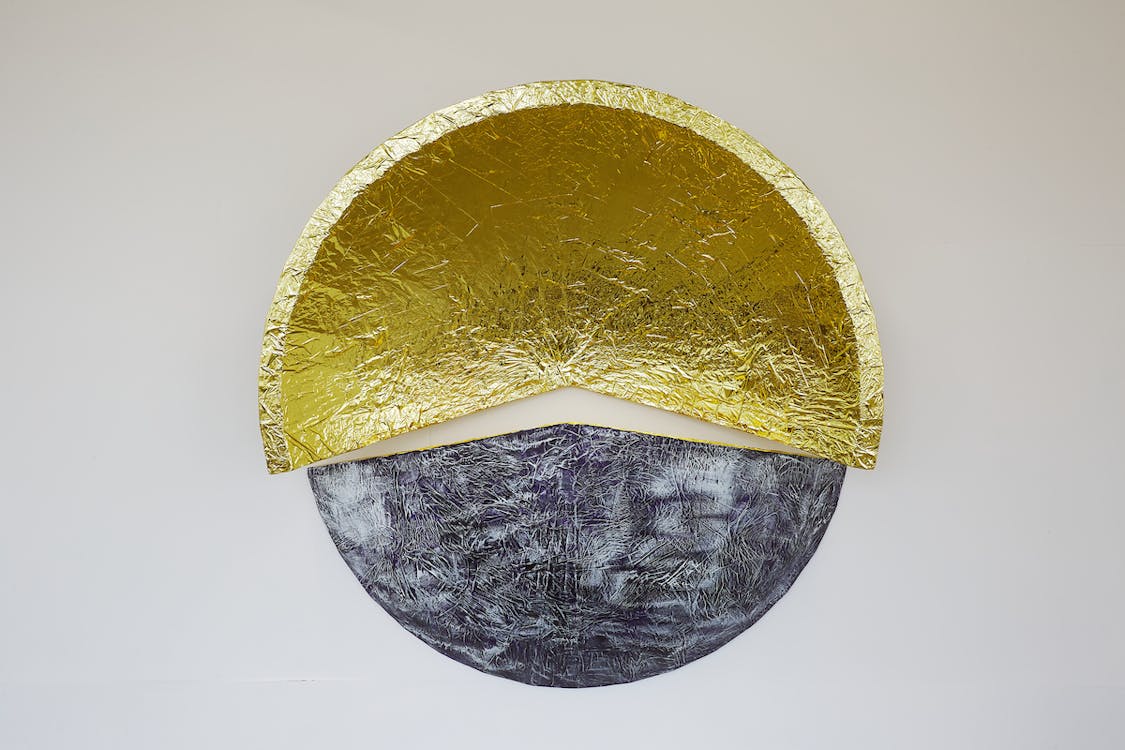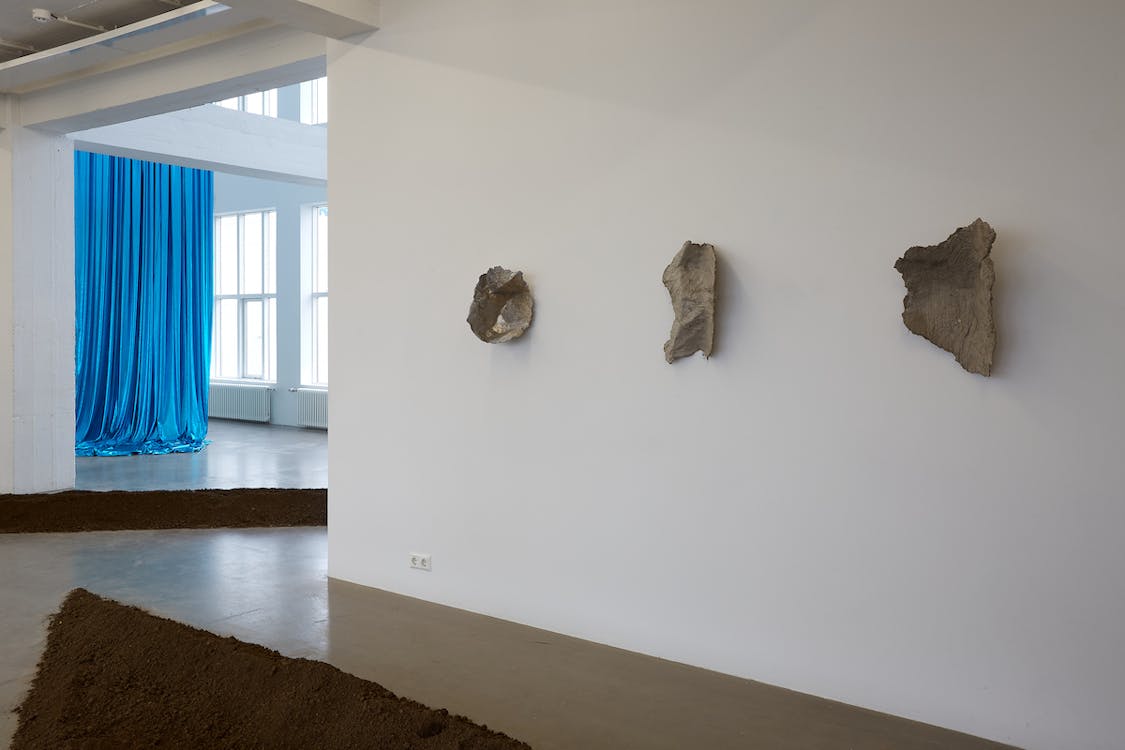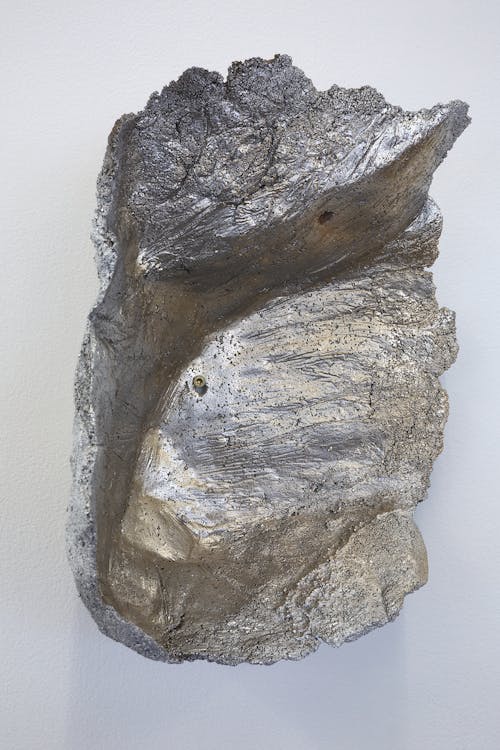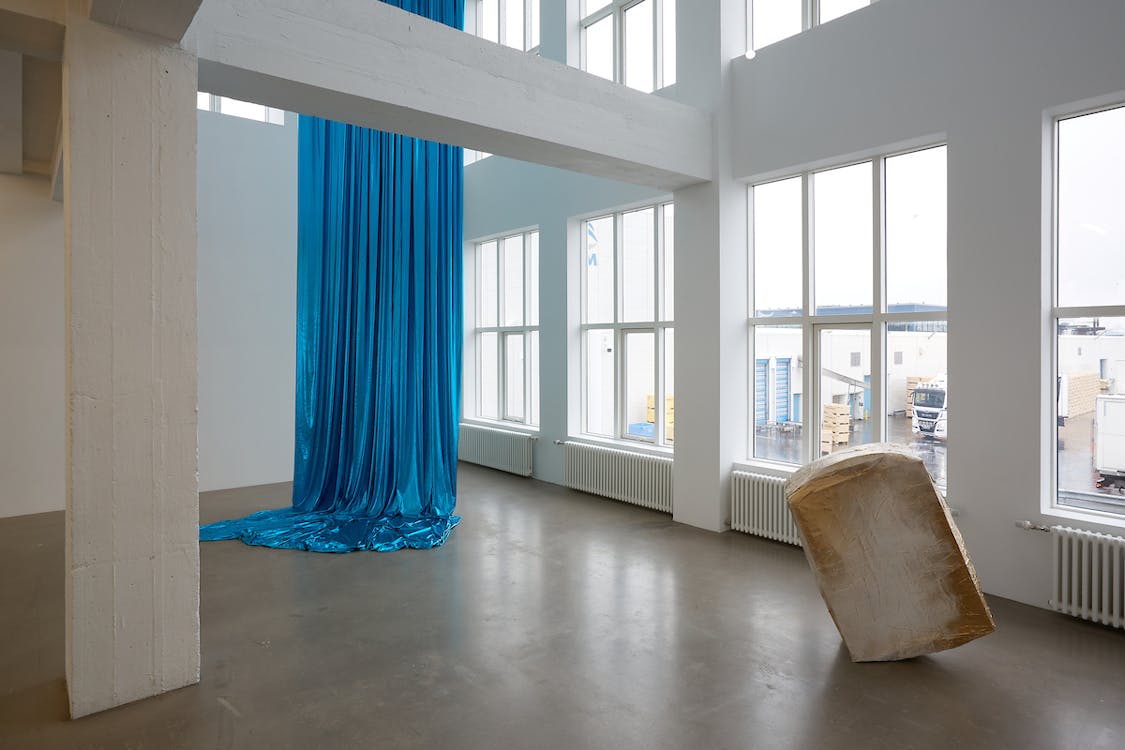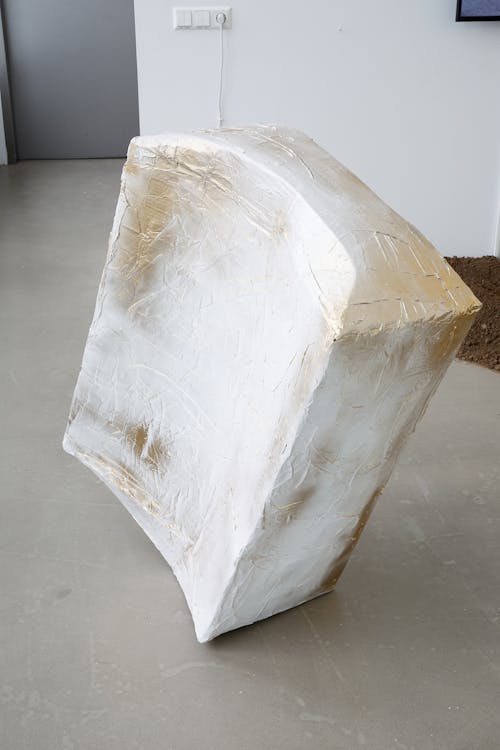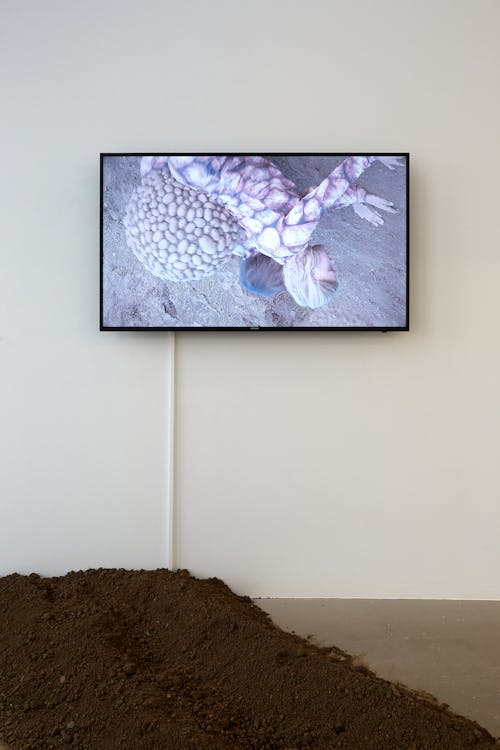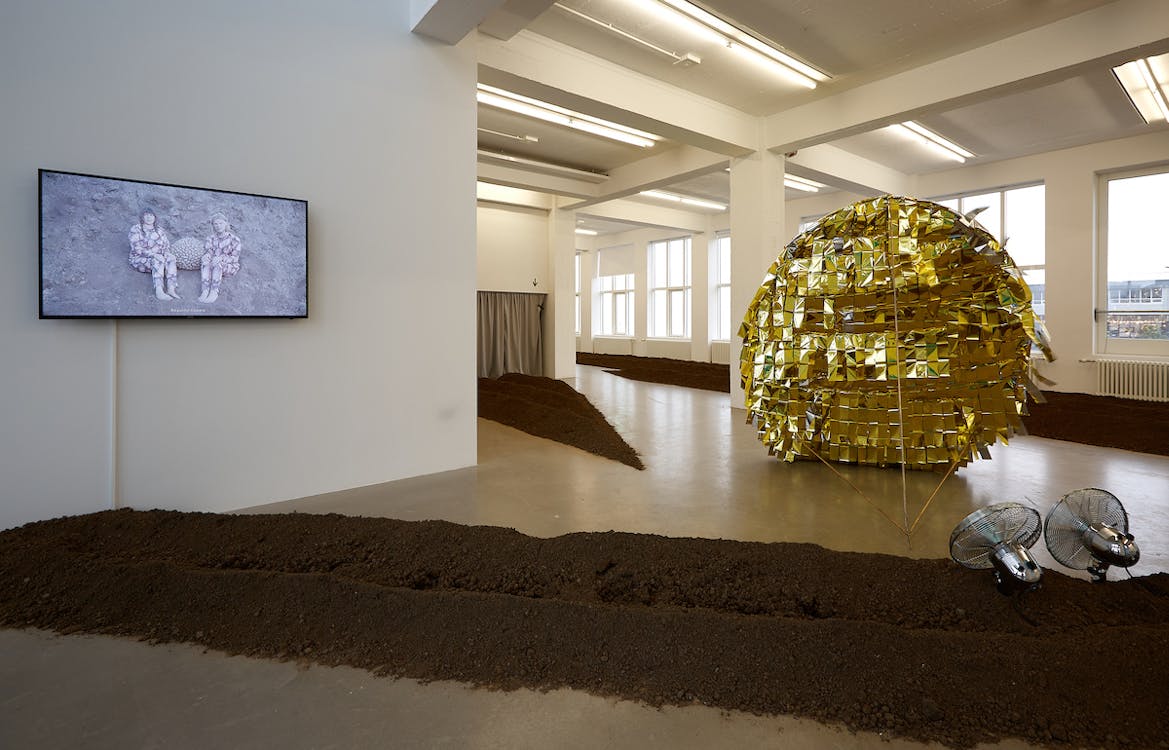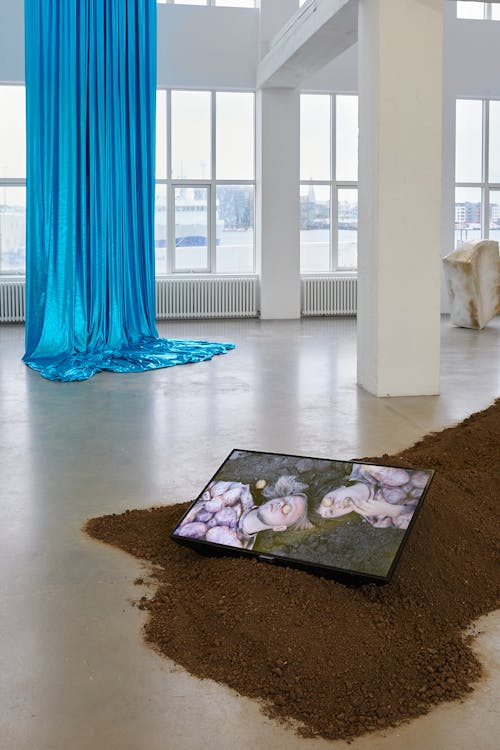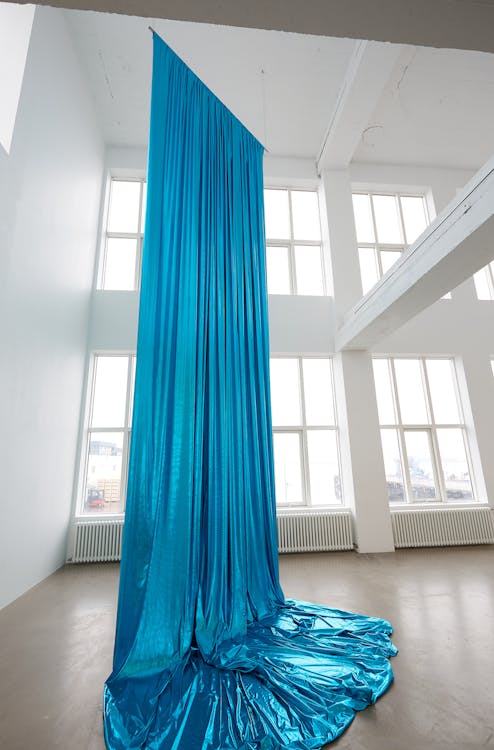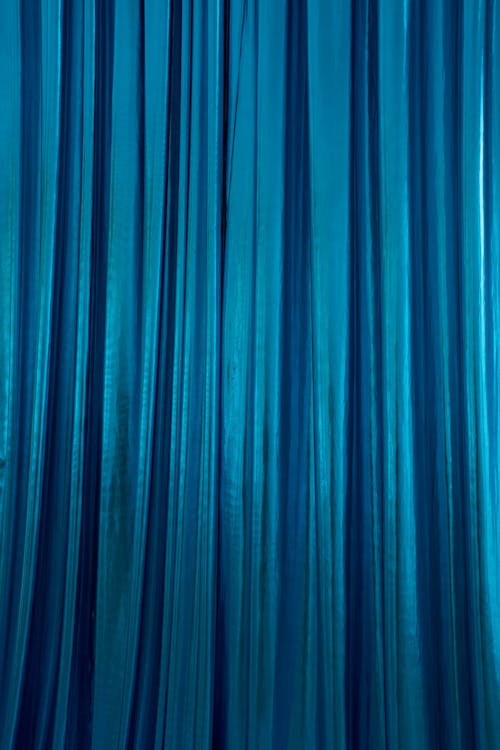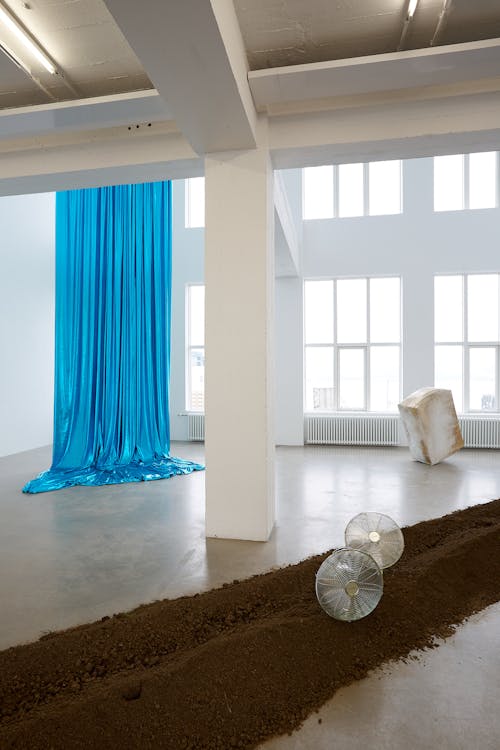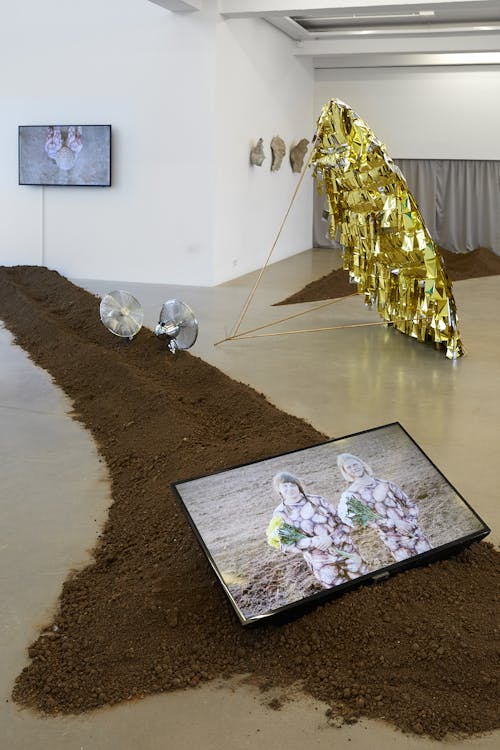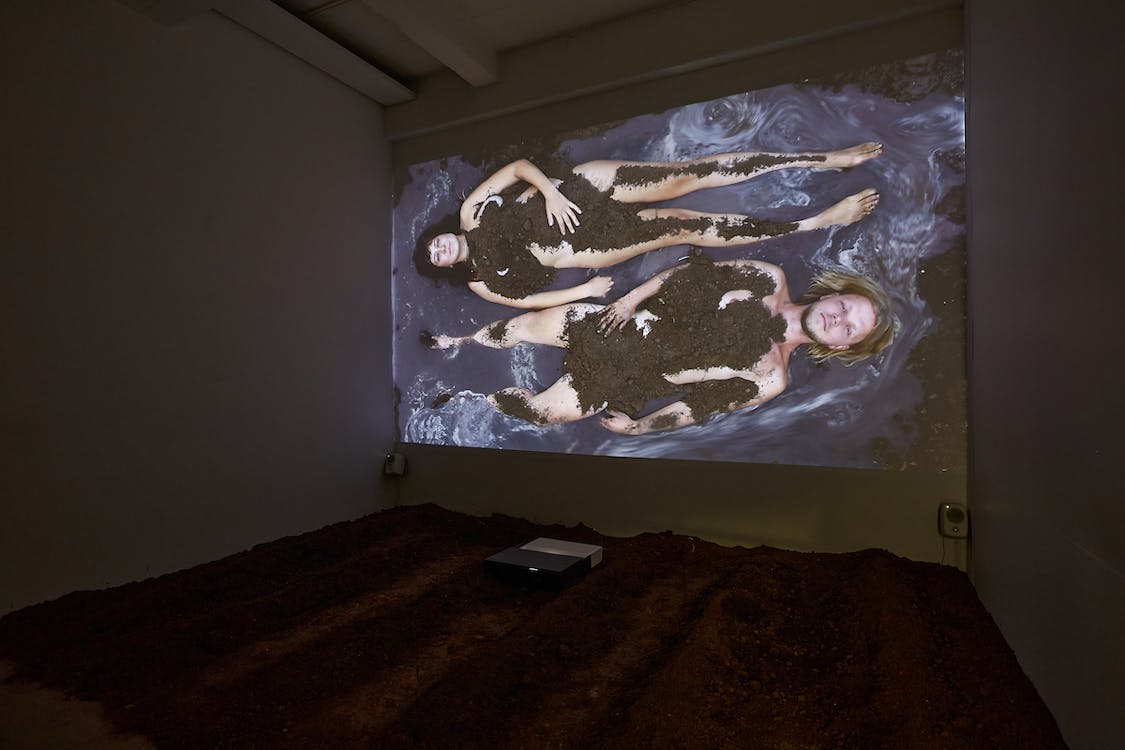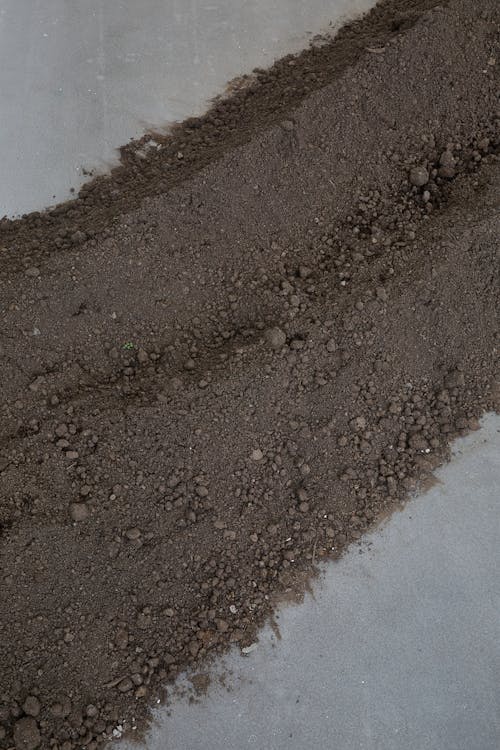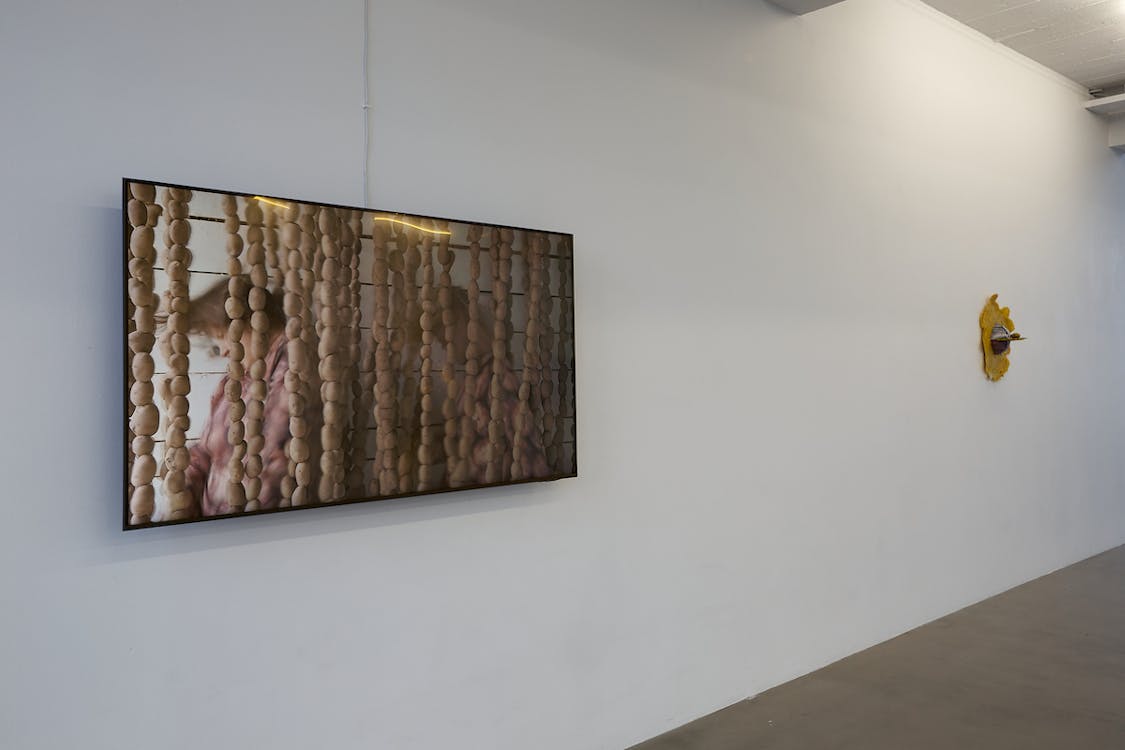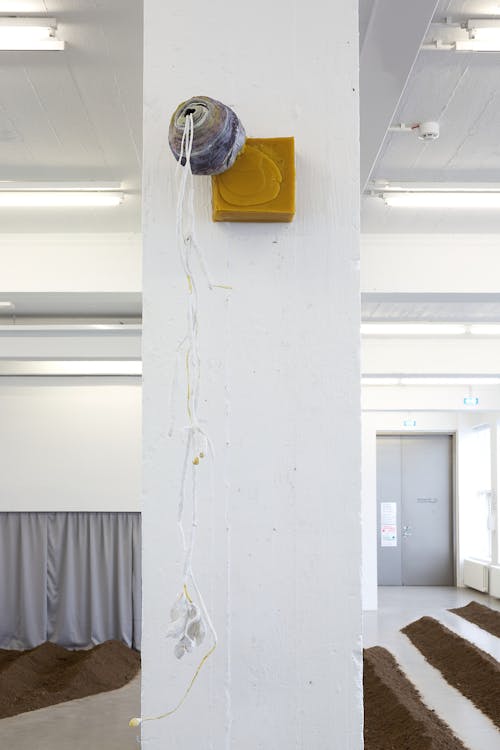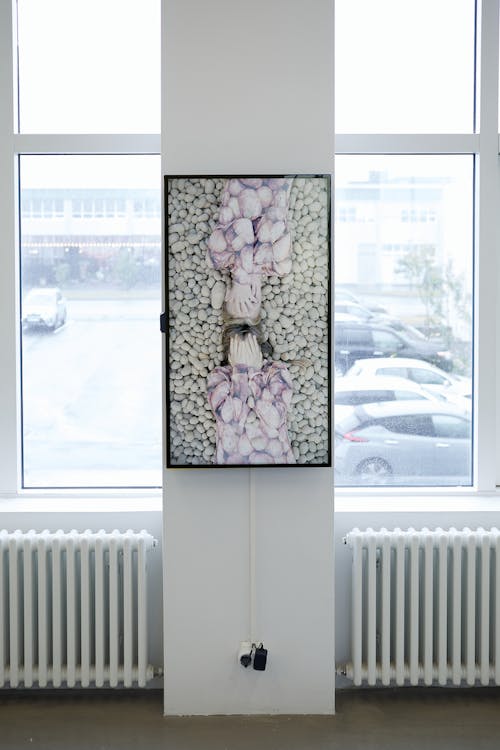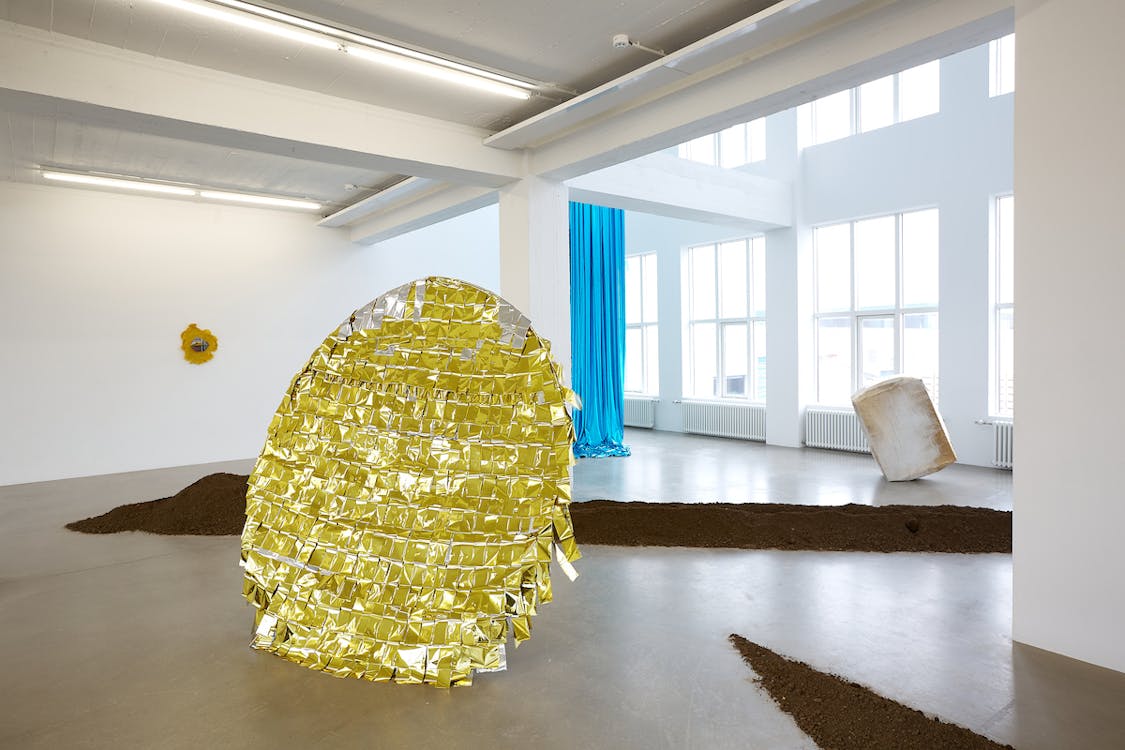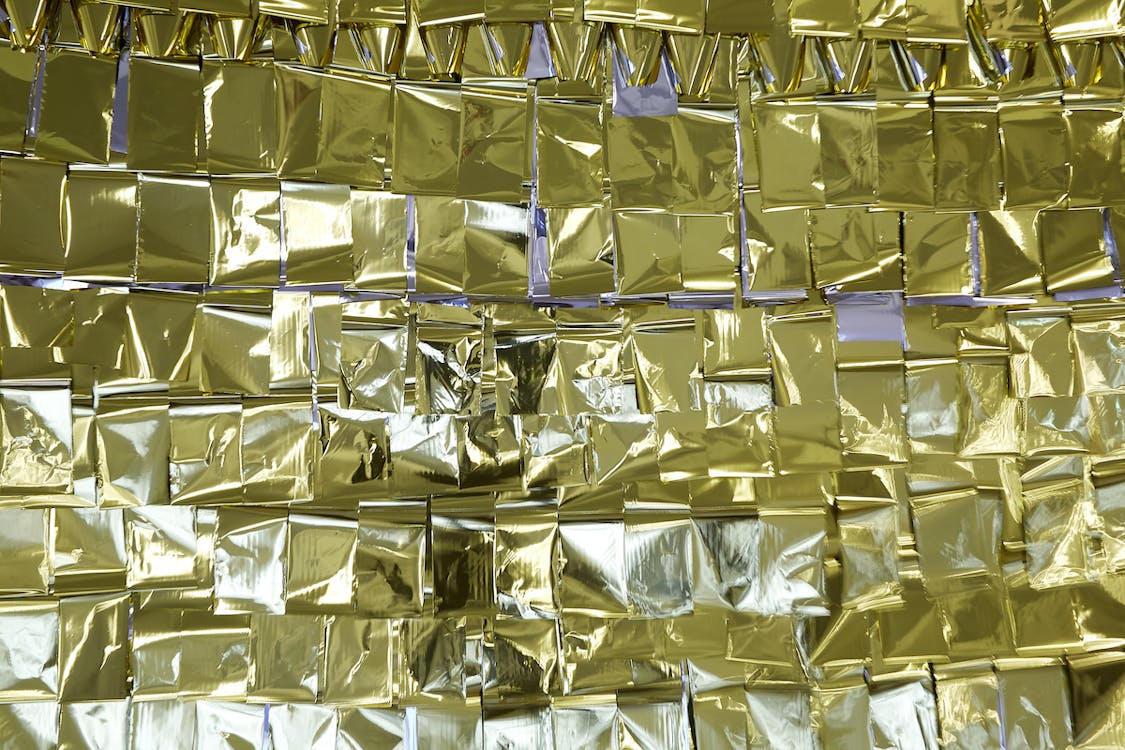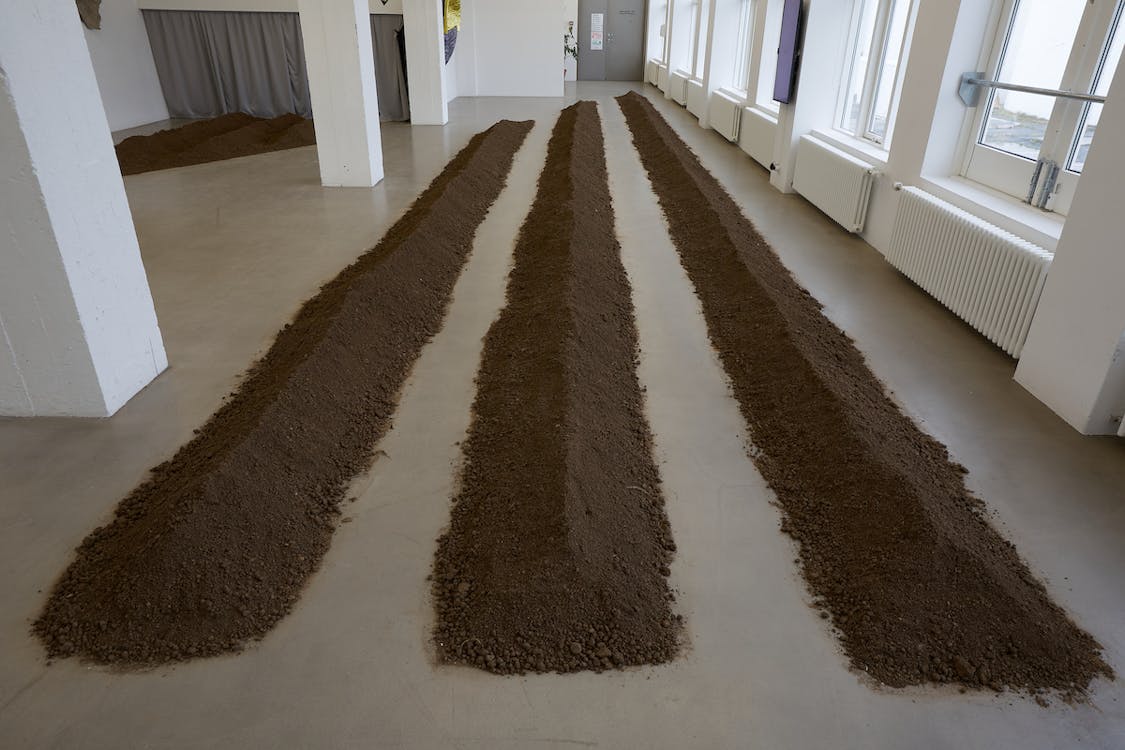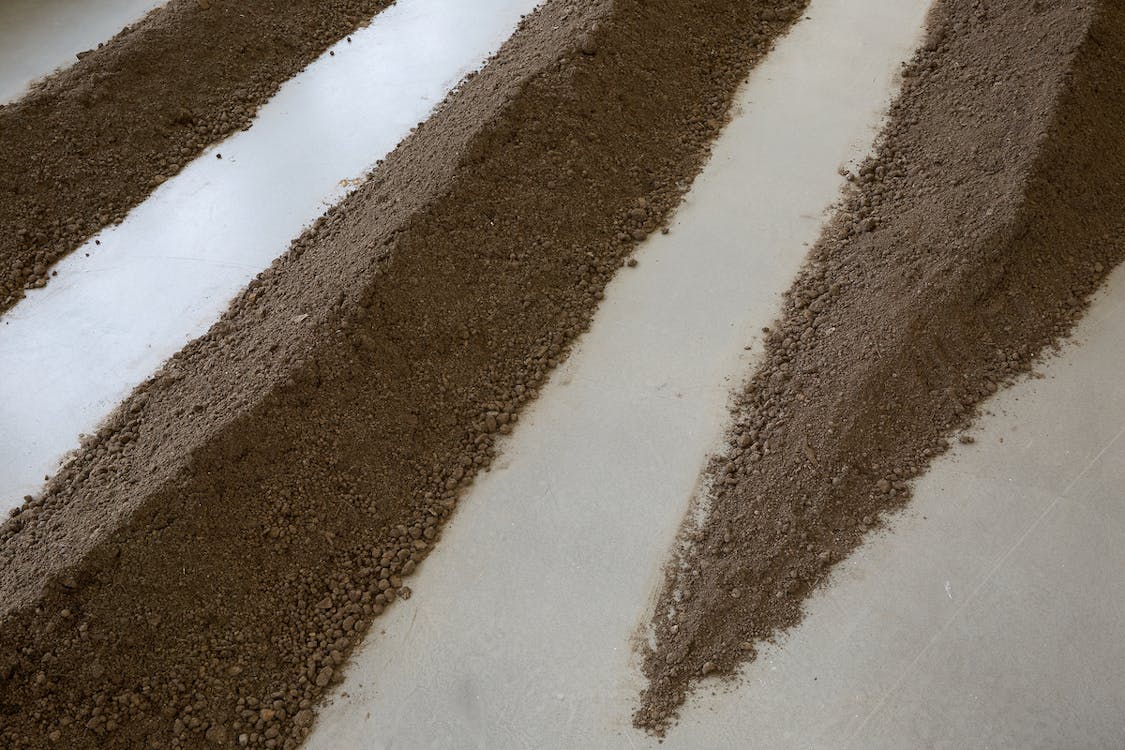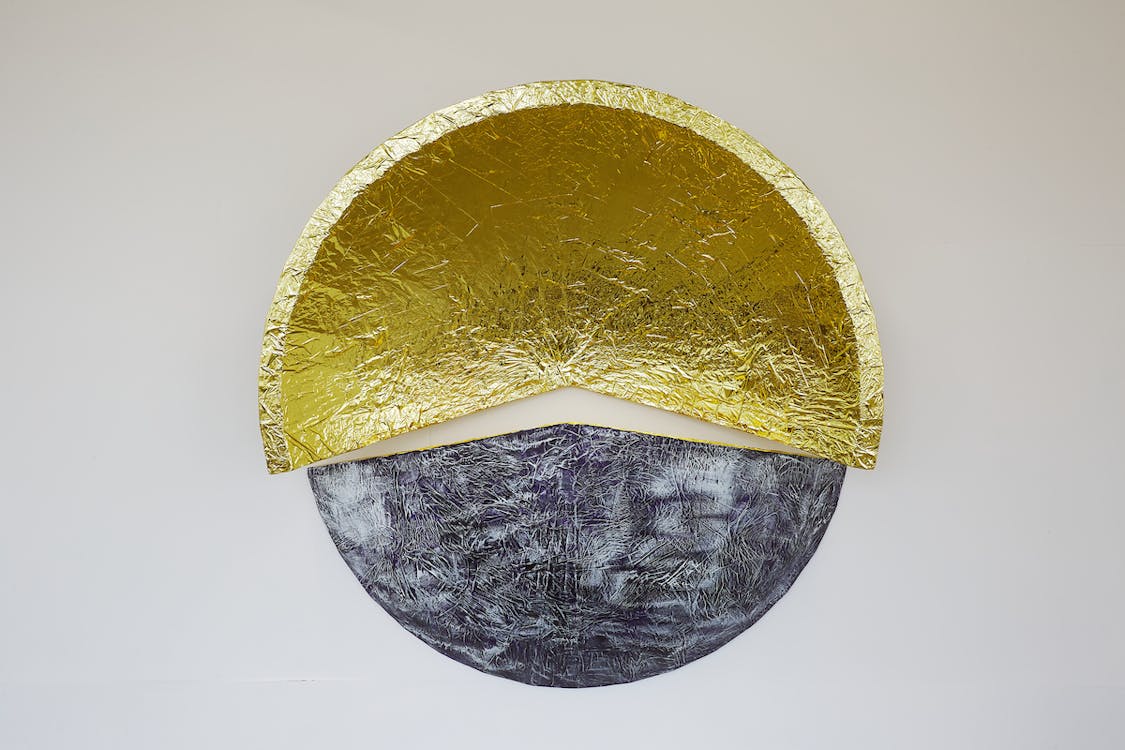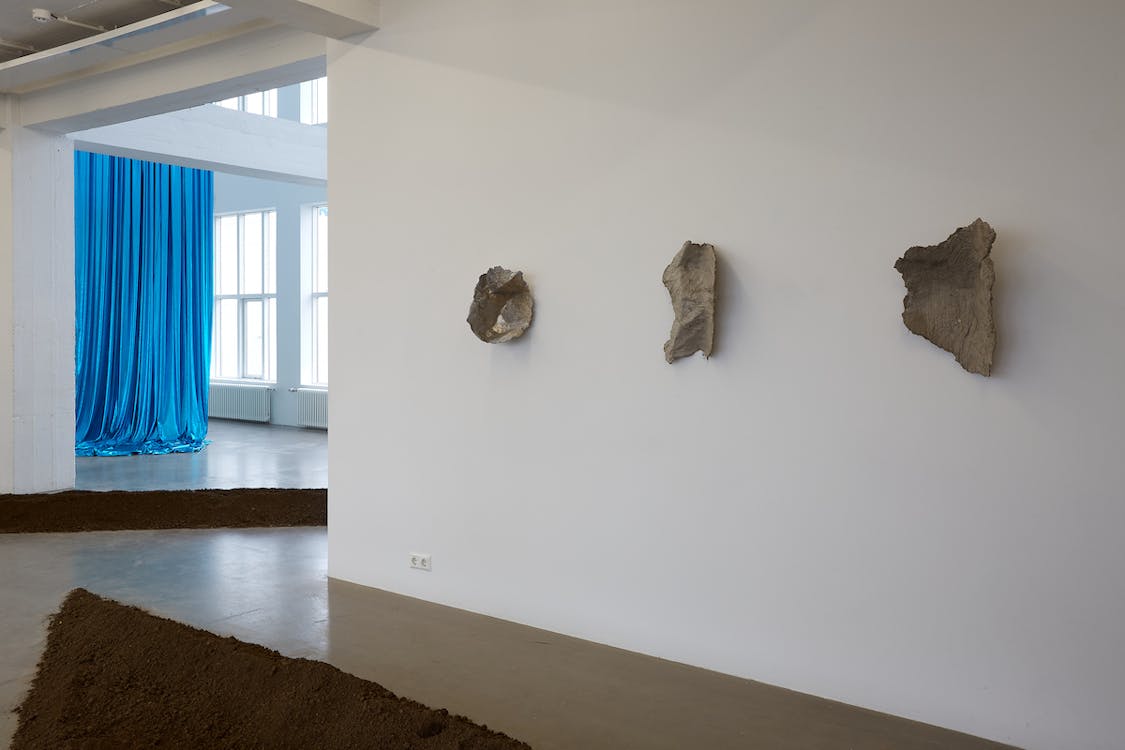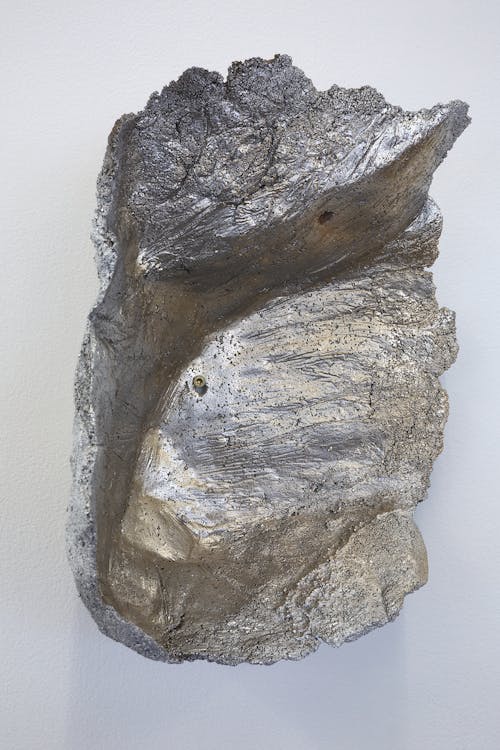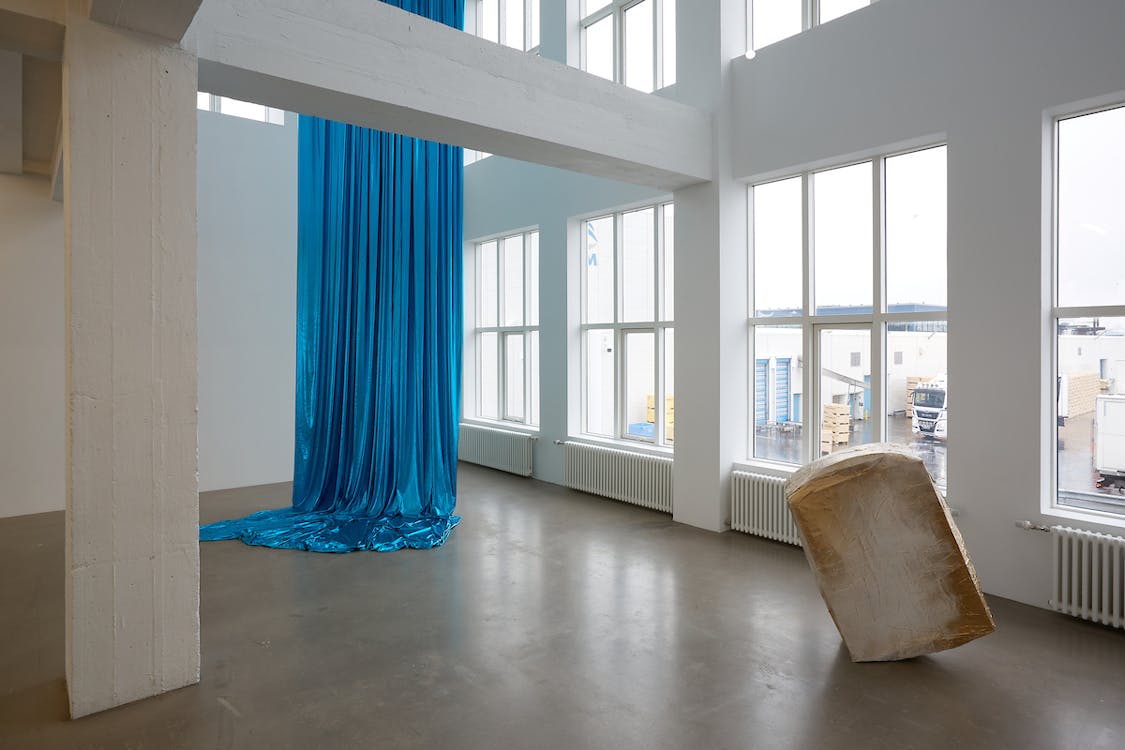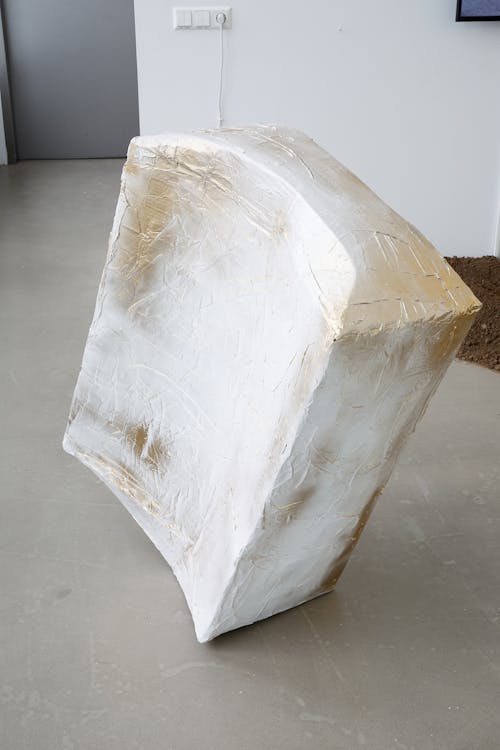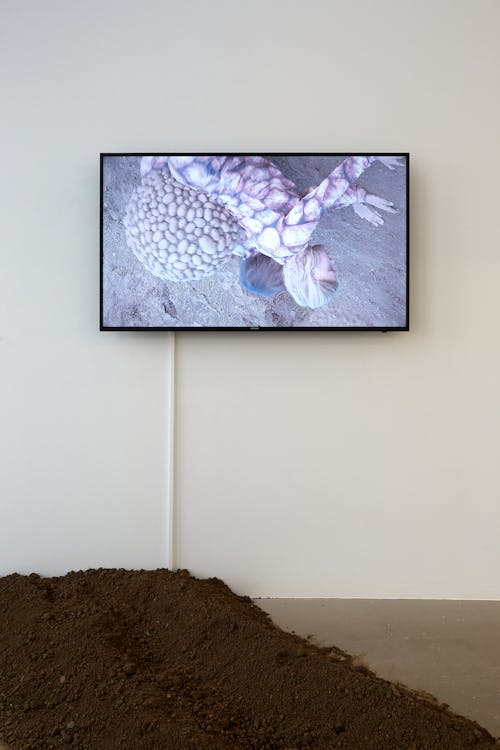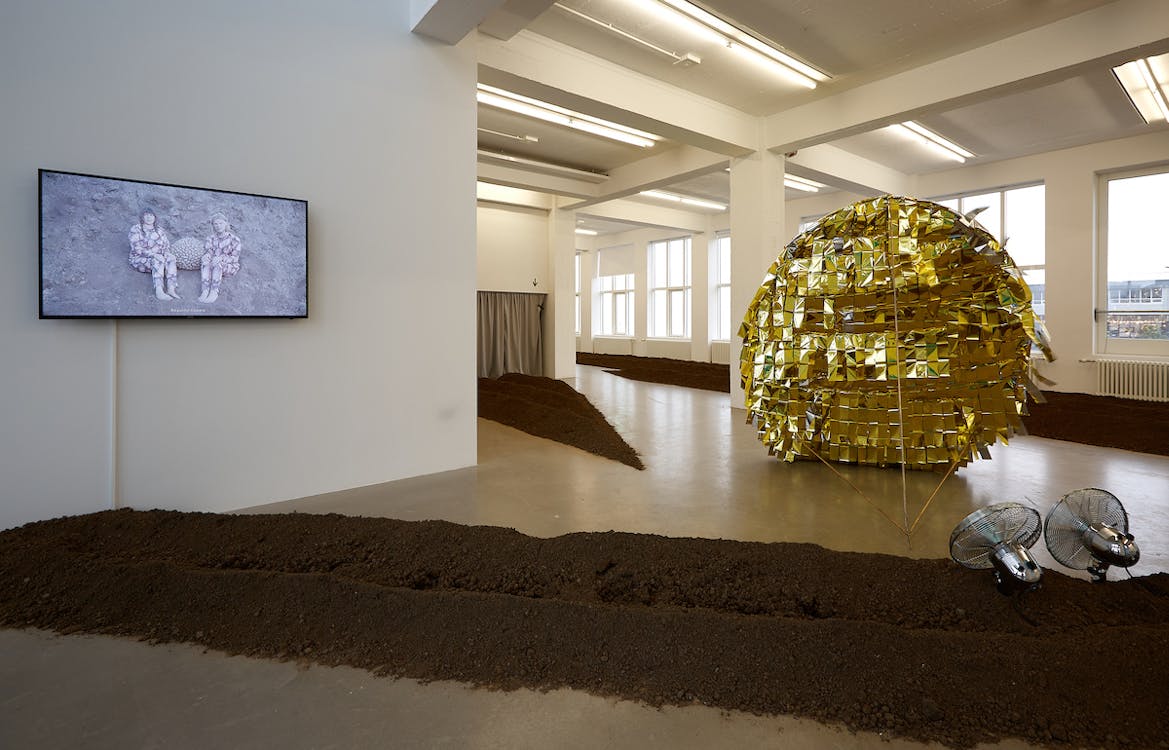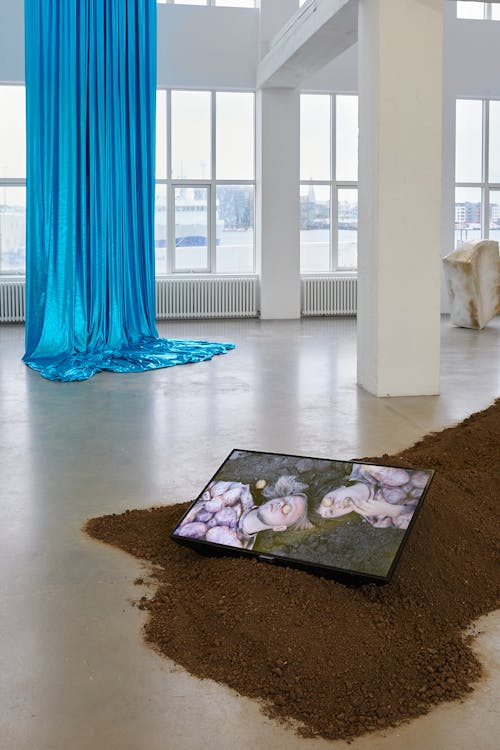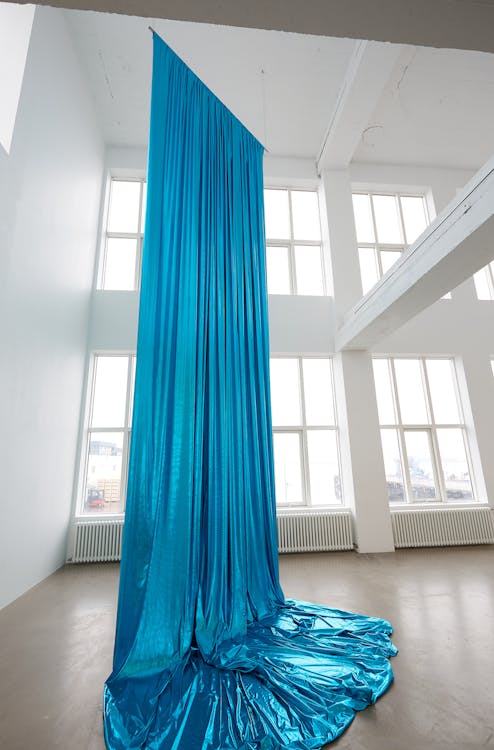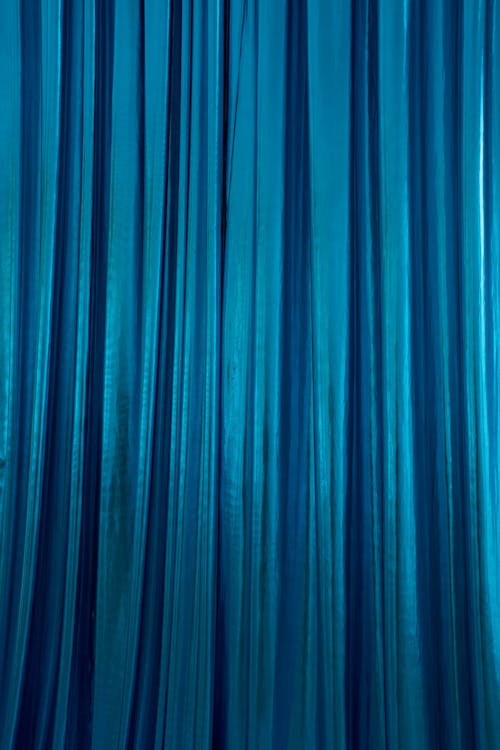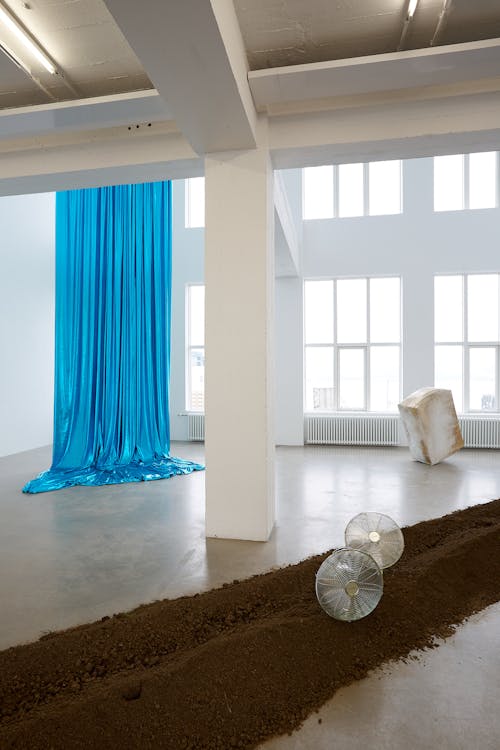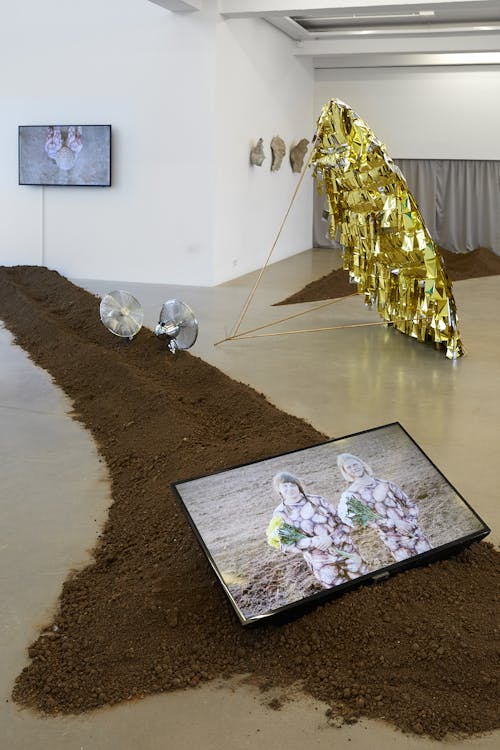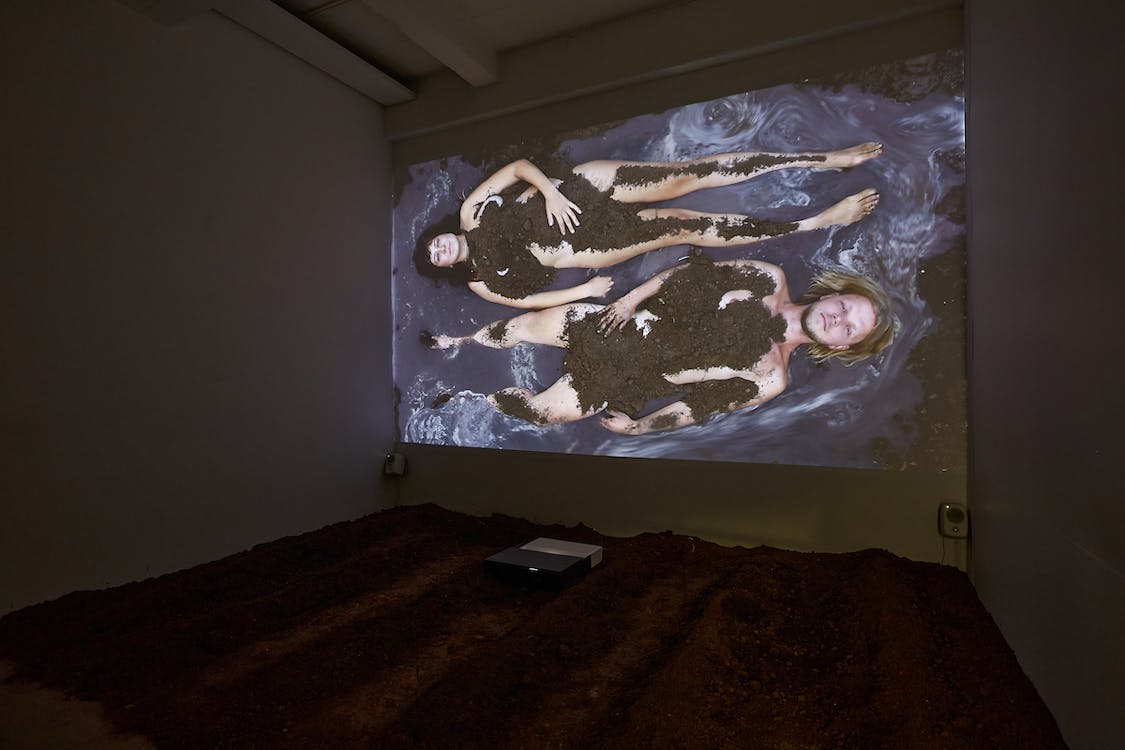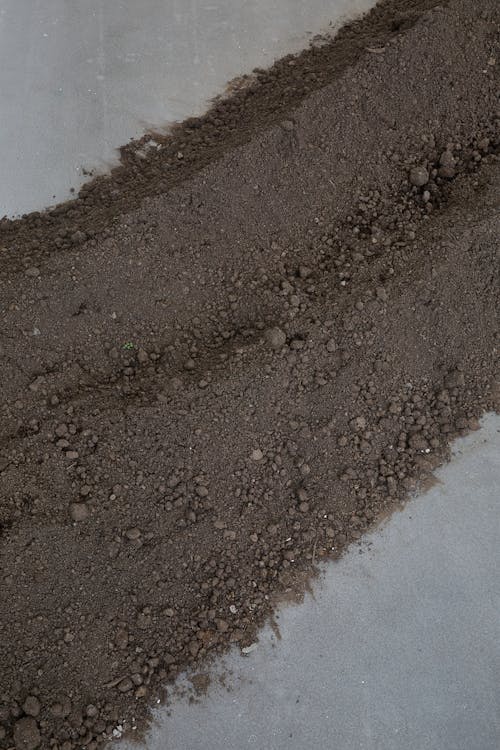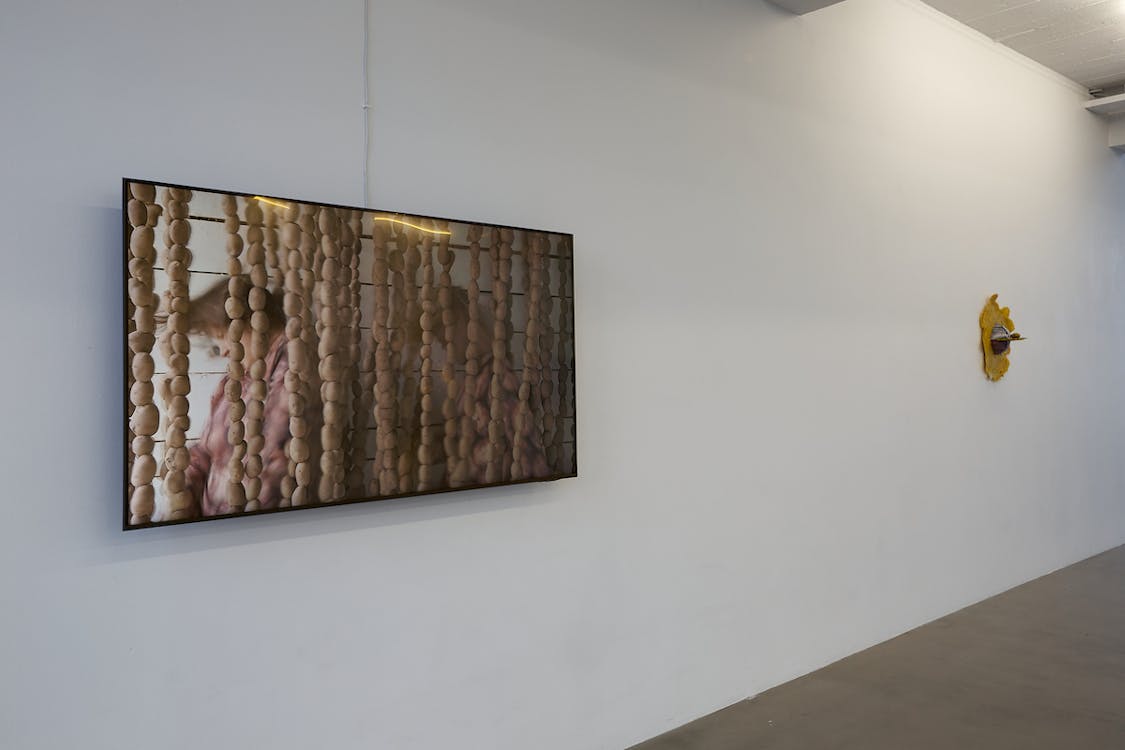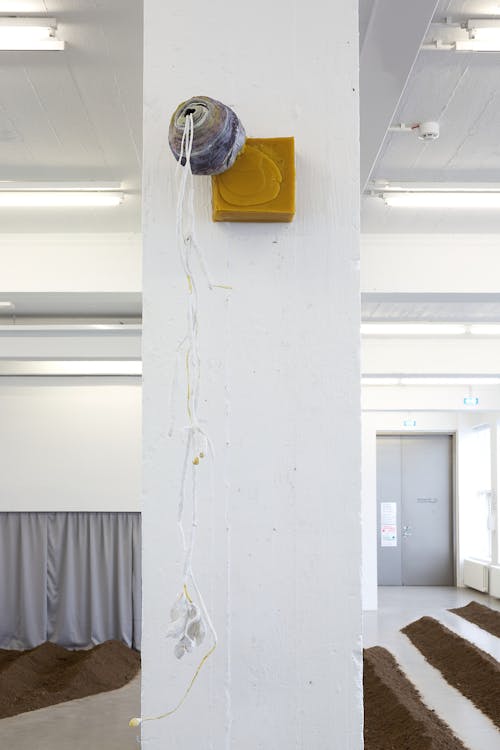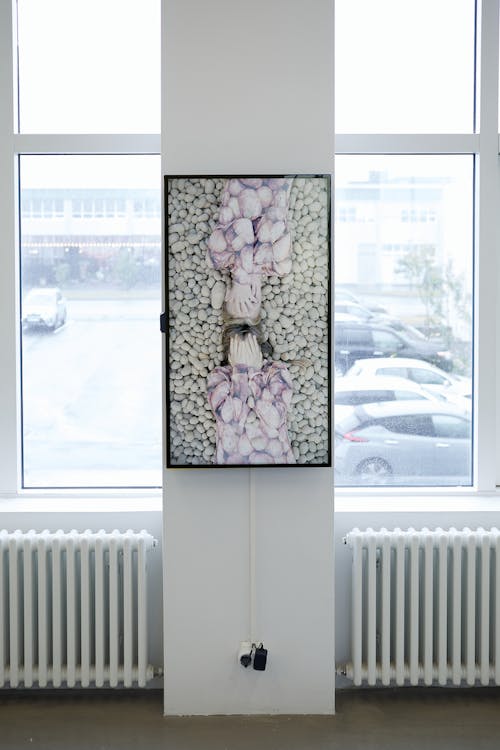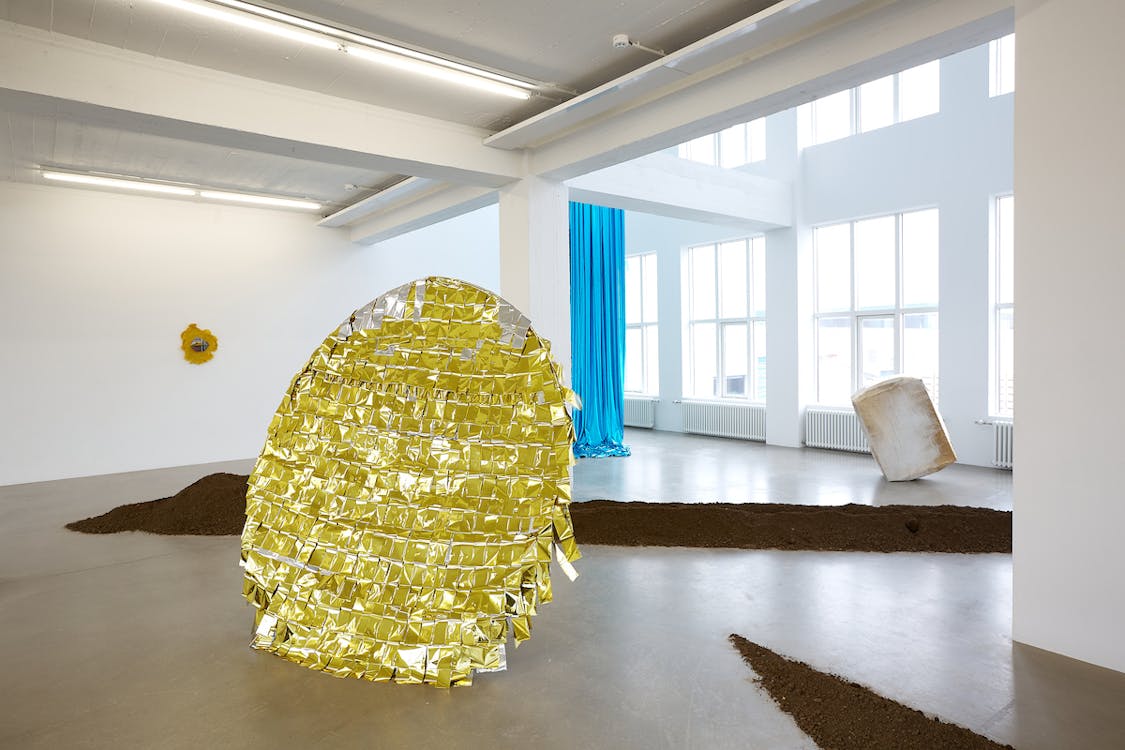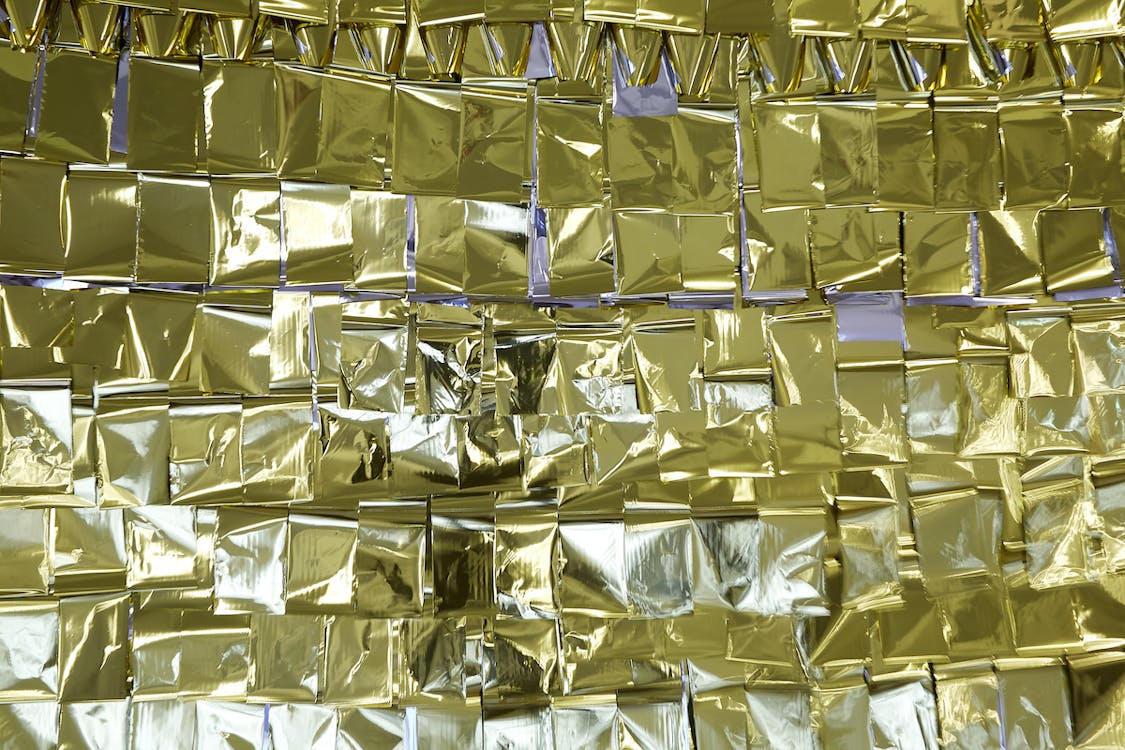 Biography
Raimonda Sereikaitė-Kiziria (b. 1989) graduated with a MA in Sculpture at the Vilnius Art Academy in 2014. She is currently based in Hólmavik, Iceland. She has participated in numerous solo and group exhibitions in Iceland, the Netherlands, Lithuania, Georgia, Italy and elsewhere.Raimonda perceives sculpture as a non-verbal way of telling a complex, multi-layered story. Often her works are based on a philosophical and multi-sided approach to different topics which usually centre around the inner world of the individual, modern human. The works deal with difficult-to-describe situations, internal experiences and the effects of different social and cultural contexts. She draws creative ideas from nature and urban architecture, fragmenting and  deconstructing them. Works often paraphrase artistic styles and features of their  movements (e.g., baroque, modernism, pop art), thus providing fluency, an  abundance of object / sculptural manipulations. The most commonly created objects  / sculpture installations are massive, abstract, brightly colored, self-contained and specific. 
Renāte Feizaka (b. 1987) is a visual artist that primarily works with sculpture and video. She holds a BA degree from the Icelandic University of the Arts, the Fine Arts department and she has been an active participant in art shows in Iceland, where she lives and works. Her work spans between the autobiographical and the historical, as well as the political because of its complexity through a comic-tragic perspective. While often finding inspiration in personal experiences, there is still a desire in her practice to erode the distinction between herself, the identities she is assuming and the viewer. Thus, while herself is almost always featured as a performer in her work, she aspires to distance her own personality from it by fabricating the consciousness of a non-existing persona.
Klāvs Liepiņš (b. 1991) started his studies at the Latvian Academy of Culture in Riga in 2010. He moved to Iceland in 2012 where he got his BA at the Icelandic University of the Arts in Contemporary Dance in 2018. After his studies he has collaborated with artists such as Sunneva Ása Weisshappel, Damien Rice, Helena Jónsdóttir, Contact Gonzo and more. He has performed amongst other for the Icelandic Dance Festival 'Everybody ́s Spectacular, International Contemporary Art Festival Survival Kit (LV), International Festival of Contemporary Theatre Homo Novus (LV), Ezera Skanas (LV) and People festival (Berlin, GE). He works as an artist for RVK Studios and is the project manager of the film festival Physical Cinema Reykjavik. In his artistic work his research topics include absurdity in the mundane, sustainability, dance outside of choreography, gender and identity issues in socio-political context . Klavs uses the mediums of performance and video art as his main artistic expression.
---
Sýningarstjóri
Katerína Spathí